If you have been thinking about reviving your lawn after winter, there's no better time than to do it now. Reviving your lawn after taking a toll during winter can take a little bit of time and planning. Long days of cold, icy weather can put a layer of challenges on your lawn. It is during this time that your lawn needs extra care and attention.
How to Revive Your Lawn
Landscaping and lawn maintenance can be very challenging especially during and after winter. Come Spring time, your lawn is in a better state. Here are some tips to help you bring back the vibrance and health of your lawn.
Debris Out
Winter storms may have caused some broken twigs, scattered branches, and other debris thrown all over your lawn. You need to take them out so you can clearly see the real state of your lawn. It might be difficult for you to identify patches or bare spots if your garden is covered with debris. Debris can also prevent drainage and proper soil aeration which can result to bare spots.
If some plants did not survive the winter season, take them out and clear the area. For those that have survived, you may need to trim them down, cut off dead parts to trigger new sprouts or growth.
Bare Spots
Once you have cleared your lawn from debris, make sure you do a 360 degree check and identify bare spots. These are the areas that have little to no grass or plants. If you see some areas that have thin or bare spots, you need to take extra care. You may need to consider overseeing. Using fertilizer on these areas can greatly help.
Watch Out for Snow Molds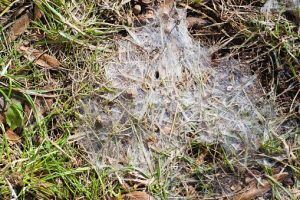 Snow molds appear when the snow starts to melt from your lawn. Fungus usually grow in cold, damp places and your lawn after winter is a perfect breeding ground. Check your lawn for snow mold and remove them once you have spotted them. Then, allow the grass to dry out. This, of course, will result in bare spots. You just have to overseed the area and allow new grass to fill in.
Get Rid of Weeds
Regardless of the season, you know weeds are your lawn's number one enemy. Your yard may have grown lots of weeds during winter. Before reviving your lawn, make sure you get rid of weeds first. You can opt for chemicals and weed removers. Most of these treatments have fertilizers in them so you need to read the instructions or ask how to apply them to avoid overfeeding your yard.
Let Your Soil Breath
Winter and ice can pack down your lawn and harden the soil. When this happens, your solid won't be able to "breath" and take in minerals and other components it needs to grow plants. When the soil is packed hard, roots may find it hard to move and grow. That is why it is important to aerate or loosen up the soil to make room for air, minerals, growth, and movement.
New Plants
Some plants may not have survived the winter. If so, you need to plant new ones. It is best to use small plants or seedlings rather than growing them from seeds. Using seeds can be very challenging and leaves more room for error. This means that your seeds may or may not yield results. A visit to your local nursery can be your best option. Seedlings or potted plants needs less effort in growing them and you can revive your yard faster.
Build Your Growing Space
Part of reviving your yard is allowing new growth. Planning and laying the foundation of your lawn can bring good results even after the winter season. By creating your new growing space, you will be able to encourage new growth for plants. This will also enrich your soil and make them less vulnerable come winter.
Maintenance
As the saying goes, practice makes perfect. You may experience some ups and downs as you revive your yard after winter. Just keep in mind these tips and make sure to follow your routine and your lawn will be back in good shape. Some plants may fail to grow correctly or abundantly after each season. While there are many factors to consider, you need to understand the challenges brought about by each change of the season. You just need to meticulously follow a routine schedule so that you consistently provide the proper nourishment and care your lawn needs.
Overall, it is always fun and exciting to see new growth. Happy gardening!