Transforming your outdoor space into a captivating backyard patio and creating a harmonious backyard landscape can be a complex endeavor. At New Leaf Landscape Design and Maintenance, we specialize in crafting functional and aesthetically pleasing outdoor living spaces in Idaho Falls and the surrounding areas. Our team of seasoned experts who are dedicated to assessing the condition of your property and ensuring that your backyard space is both well-maintained and visually stunning. We understand that the quality of your landscaping plays a pivotal role in your property's value, which is why we prioritize regular maintenance and enhancements.
Lawn Care: Our meticulous approach ensures your lawn receives the perfect cut every time. We offer professional mowing, edging, and trimming services to create an impeccable backyard design.
Garden Care: Elevate the beauty of your garden patio with our expertise. We remove weeds, fertilize the soil, and recommend strategies to keep your vegetable garden or flowerbeds in pristine condition.
Mulch and Fertilization: We employ safe and effective methods for mulching and fertilizing, promoting the health and vibrancy of your outdoor living space.
Weed Maintenance: Bid farewell to invasive weeds, which can disrupt the tranquility of your backyard. We'll not only eliminate existing weeds but also implement preventative measures to maintain a weed-free garden patio.
Trimming and Pruning: Maintaining the health and appearance of your plants and trees is our priority. Our skilled team handles trimming, pruning, and even tree planting, moving, or removal.
Hardscape Maintenance: As your backyard landscape evolves, so do hardscape structures. We're here to repair and maintain your stone patio, stone walkways, rock garden, and any other hardscape elements to ensure they remain in top condition.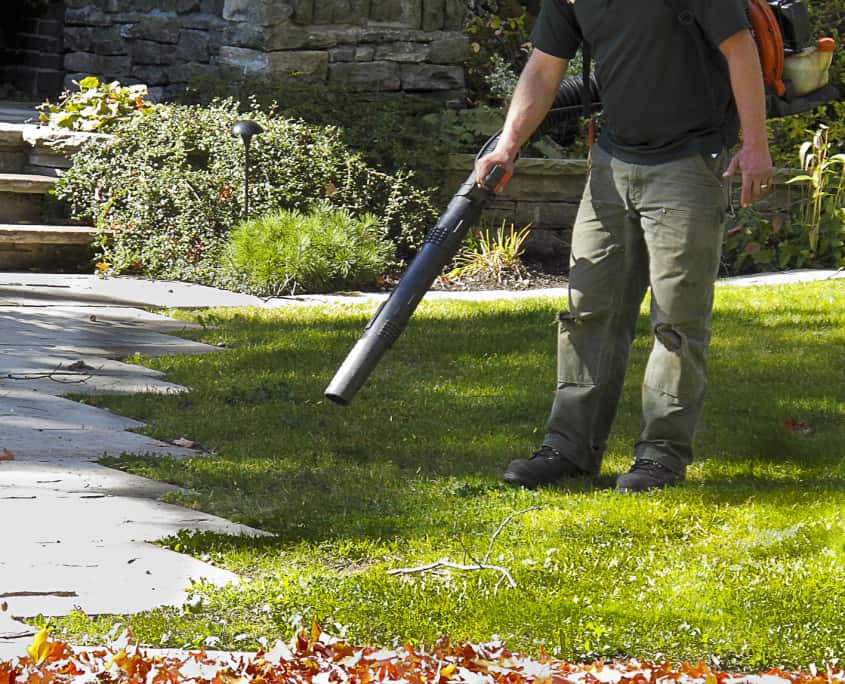 Creating Your Backyard Oasis Through Collaboration
At New Leaf, we believe in a collaborative approach. Before initiating any project, we engage in a thorough consultation with you to understand your specific needs and preferences. This allows us to work efficiently and deliver exceptional backyard design tailored to your unique backyard design. We also provide insights into potential issues you might not have been aware of, addressing them proactively to prevent future problems.
Maintaining your backyard can be a continuous process, and we're here to make it easier for you. Our team of dedicated landscapers is ready to bring your backyard landscaping ideas to life. If you're experiencing lawn issues, overgrown weeds, untidy plants, or trees encroaching on your hardscape or garden patio, trust the professionals. Contact us at (208) 529-3333 for quality landscape maintenance in Idaho Falls.
We'll Keep Your Property Functional and Decorative
We will work with you from start to finish. Before beginning our work, we will look over your property with you in order to establish exactly what needs to be done, and in turn communicate with each other to perform our work efficiently and quickly, making sure you receive the best Idaho Falls landscape maintenance we can provide. We will also help you become aware of issues you might not have known about beforehand, and we can show you ways to take care of them before they become problems in the first place. New Leaf strives for quality Idaho Falls landscape maintenance. Keeping up with all of your yard's projects can be difficult, and it is a continuous process for any property owner. Fortunately, you don't have to do all of the work yourself. Our team of dedicated and professional landscapers are ready to work with you. If you are noticing problems with your lawn, out-of-control weeds, messy and unkempt plants and trees, and would like the kind of service that only the professionals can provide, be sure to contact us at (208) 529-3333.
Elevating Your Real Estate with Enhancement Projects
At New Leaf, we understand the significance of property enhancement. We're committed to helping you maximize the potential of your home or business property. Our expert evaluation identifies deficiencies and areas for improvement. Our Idaho Falls enhancement projects cover various aspects of your yard, including:
Softscape: We combat weed growth and enhance plant health through safe herbicidal treatments and mulching. Whether it's a vegetable garden, flowerbeds, or a garden patio, we can transform your softscape into a lush focal point.
Hardscape: Over time, hardscape structures may deteriorate due to weather, soil shifts, and plant growth. Our enhancement projects include repairs to stone patios, stone walkways, garden paths, stairs, and paved surfaces.
Sprinkler Systems: Keep up with your evolving backyard landscape by evaluating and updating your sprinkler system. We repair or install efficient sprinkler systems to suit your property's changing needs.
Outdoor Lighting: Our experts analyze and repair outdoor lighting systems, enhancing aesthetics and security. We offer upgrades like automatic and motion sensor lighting for added convenience, making your outdoor living space even more inviting.
If you desire to incorporate a fire pit, enhance your vegetable garden, create a garden patio, or introduce a captivating backyard pond as a focal point in your backyard landscape, New Leaf's Idaho Falls enhancement projects are designed to fulfill your vision. We're here to assist you in making these dreams a reality.
Contact us today to embark on your journey towards a more beautiful, functional, and inviting backyard design. Reach out to us at (208) 529-3333, and let's bring your backyard design to life.