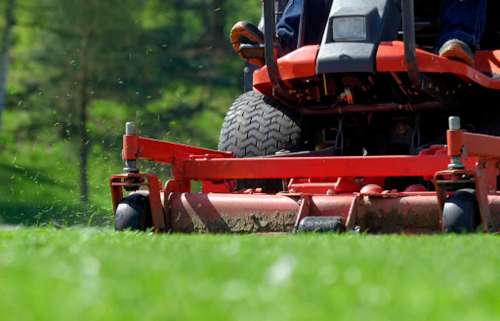 New Leaf Provides Idaho Falls Lawn Mowing Services
In Idaho Falls, lawn mowing is something that many people actually look forward to. When Spring and Summer finally arrive, we tend to look for any reason possible to soak it all in. Given our long Winters, the sight of Spring in the air and the smell of freshly cut grass is a wonderful experience.

However, as time rolls on, many end up needing some assistance. This is especially true for business owners or people who own many acres of property. As a business owner, you know that a well maintained lawn and garden is essential for attracting business. A beautiful yard projects an image of professionalism and success, whereas an overgrown and weed-ridden lawn is likely to repel many potential customers.

While you're busy with the demands of your business and daily life, you can rely on us to mow your lawn in a way that will not only keep it aesthetically appealing, but also as healthy as possible.
As a professional Idaho Falls lawn mowing company, we understand how to mow a lawn properly.
We cut the grass to an appropriate length – Many people cut their lawn too low, which leads to less healthy grass. A good rule of thumb is to never cut grass shorter than two inches (many believe grass should remain the same length all season for maximum health). We mow when the grass is dry – Mowing the lawn while it's wet keeps the grass clippings from being distributed evenly across the lawn. It also tends to clump together and clog the mowers.
By leaving the grass clippings on your lawn, we can enhance its health – As an Idaho Falls lawn care company, we understand the importance of leaving clippings on the lawn. As they decompose, they provide the lawn with various nutrients, making it not only healthier, but better-looking as well.
We sharpen our mower blades often – This ensures that your lawn gets a clean and even cut. This also helps keep your grass healthier, as dull blades rip up grass and cause unnecessary damage. Sharp blades cut smoothly, leaving them healthier and better-looking.
It's a good idea to have your grass cut short at the very beginning of the growing season, after it's been
dethatched. This way, it will not become matted over time if cut consistently throughout the Spring and Summer.
New Leaf Landscape Design and Maintenance are the Idaho Falls lawn care experts you can rely on.
As a home or business owner, you know how important it is to have a property that you can call "home". We understand how important this is as well.
We take pride in our work, providing the lawn care in Idaho Falls necessary to make properties look their best.
If you own a large lawn or field, a business with a lawn, or simply a large property that you just don't have time to mow, call us today for the services you need.